Introducing the Maptivism | Cartography is Cool BETA for Occupy London which can be viewed over at http://map.occupylsx.org/
We wanted to create a resource for Occupiers which makes it easier for them to find nearby resources that make life better and then share them with their fellow occupiers. So we used our mapping obsession and our version 1 webapp code to knock something up.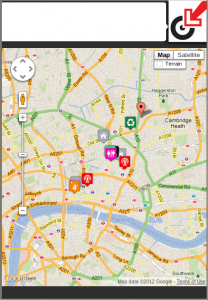 So it has been a great week in terms of Spring of Code. The Sukey team has been putting its new Spring of Code developers through their paces and tonight has been a fun night of developing Sukey itself but also just messing around and hacking with google maps, Postegre (with GIS extensions), GeoRSS, openstreetmaps, php, python, js  and general html tinkering and we have come up with the first of the three main features of this app, the map. At the backend, there are several google maps: occupations, recycling, toilets, showers, wifi, and venues that teams of mappers have been invited to collaborate on. We should see these maps grow over time to help us all find what we need while we are in the city. Savvy mappers will add opening times and more useful info to their map items or even update those of others. We will see how the collaboration goes. More development coming soon on the collaborative and social aspects on the update and the share tabs respectively. Possible extensions / ideas: checkins, google calendar integration for meetups, custom rating systems, photostreams.